The String Jazz Man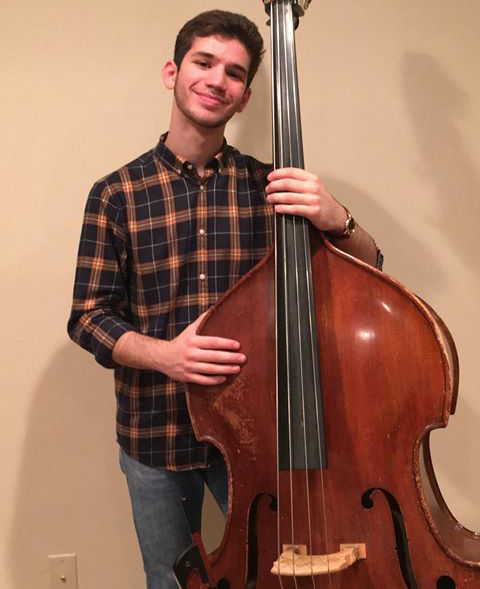 Hang on for a minute...we're trying to find some more stories you might like.
His hands ran down the strings, aware of where they were going.
Up and down.
One hand on the neck of the wooden instrument and another one curled around his wooden bow.
He was practicing.
He practiced every day and it seems that his work has paid off, because he was now the 7th Best Bass in the State of Texas.
He was selected not only for All-Region Orchestra,  but All State Orchestra and All State Jazz Band, naming him the best of the best.
Falling in love with music at a young age, Cristian Carrera (12) has made All State Orchestra for three consecutive years ever since he was a sophomore. And now this was his first year making it in Jazz Band.
Playing the double bass in Varsity Orchestra and the guitar bass in Jazz Band, Carrera lives a double life.
He is a string and jazz person, living the best of both worlds.
"I love them both and I can't choose which one I like better," Carrera said. "While classical music has rules to it, jazz is very free and I like that."
His days are full of musical adventures, having two morning orchestra classes and jazz practice in the afternoon.
"It feels great [having three musical experiences a day] I wish there was more," Carrera said. "I like that I spend a lot of time at not only home but at school practicing."
Carrera got into orchestra in sixth grade, following his older brother's footsteps.
"I didn't really pick the instrument, the teachers thought it would be good for me to be like my brother and I agreed," Carrera said.
Then, he grew up with his instrument.
Carrera is also in two bands, one rock band and one jazz band. He even composed some songs.
Wanting to pursue a career in music, Carrera never knew music would impact and follow him in his life.
With some humble words Carrera leaves advice for young musicians aspiring to be like him.
"The best advice I've known so far is that you get what you put in," he said.
"Even if you practice a few minutes if it's efficient and effective then you'll go as far as you take yourself."
Carrera is a man of many words: a musician, a composer, and a jazz and string player, claiming titles only few can own.