Girls Golf Sets Themselves Below Par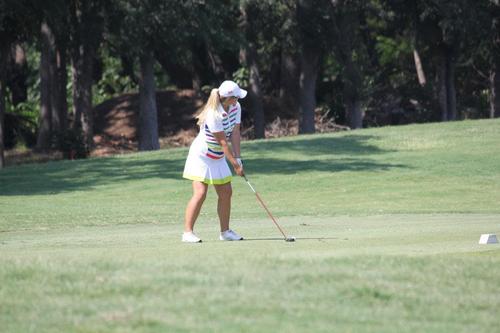 Hang on for a minute...we're trying to find some more stories you might like.
Starting off the new year right, Golfing Head Coach Celso wants to make sure that all the girls get their swing in order. "To get to downright perfection," Celso said. "It starts at your basics. When you can master that, there will be nothing too challenging to overcome."
Varsity has already started going to the Golf Course at Palmview to redefine their swings in the range and putts on the green. "It's really exciting to see that we have a very experienced team this year." Varsity Golfer Alexis del Rio (12) said. "With this experience as a team, we'll have so much more confidence at the meets this year."
A big difference this year is the schedule for many 5A schools in the district. The 2012-2013 Varsity season offers new teams like Weslaco, Economedes, Edinburg, and PSJA all in the biggest district for this year's Texas-Valley 5A schools.
Head Coach Celso uses this pressing issue as a motivator. "Some of these schools are good," he said. "But we are top tier!"
Which is why he has pressured all the girls for a grander cooperation at practices, to encourage the team effort. "Golf is a very individualized sport,"Junior Varsity Golfer Bella Ortegon (11) said. "But having that warm team effort around you improves your status so much more."
Everything is all a redefined work in progress. In this long season, Coach Celso and his very experienced team of girls are aiming to turn better into perfect.